GAMES
Games
THE STORY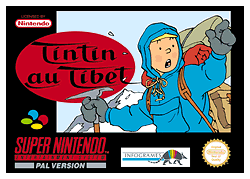 Tintin is on holiday with captain Haddock in Switzerland. They are at their hotel when they learn that a DC3 of the line Patna-Katmandu has crashed during a storm in the mountains near Gosainthan. Some time later, he recieves a letter from Tchang, a friend who he rescued from drowning when he travelled in China. Tchang tells him that he's coming to Europe, after a short stop in Katmandu. To his horror, Tintin realises that Tchang is one of the persons on the crashed plane. There is little or no hope of finding them alive. Tintin can't give up on his friend and decides to go to Tibet to search for Tchang...
THE KEYS
C - For running
V - For jumping
Spacebar - For lifting things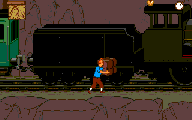 Down key - Coming towards the screen/For lifting things
Return key - For selecting/Turning pages
Left key - Left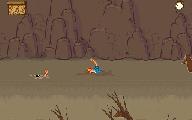 Right key - Right
SYSTEM REQUIREMENTS
DOS
IBM PC or 100% compatible (486DX33 min.)
Hard Dish: 6 MB free space
8 MB RAM
CD-ROM Drive
Sound Blaster or 100% compatible Sound card.
Joystick (opitional)
Windows
95 IBM PC or 100% Compatible (486DX2/66 min.)
Hard disk: 6 MB Free Space
8 MB of RAM (16 MB Recommended)
CD-Rom drive Windows 95 Compatible
Sound card OS: Windows 95 Mouse
Joystick (optional)
PASSWORDS
Code 1 - 315
Code 2 - 907
Code 3 - 623
---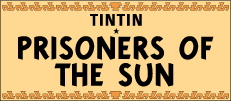 A new adventure in the heart of Andes
A thousand curses!
On their return from Peru, some explorers have been struck down by a bizarre illness. The cause is rumoured to be a mysterious mummy... When Professor Calculus disappears in strange circumstances, Tintin decides to investigate. From the port of Westermouth to high up in the Andes, he will need to solve riddle upon riddle if his enquiries are to continue. Your adventures in the land of the Incas will be full of tough mental challenges and packed with action. So are you ready to visit the Temple of the Sun?
---
A rich and varied game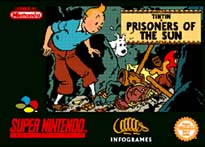 True to Hergé's comic books, "The Seven Crystal Balls" and "Prisoners of the Sun", both in terms of story-line and graphic detail.
More than 20 completely different screens:
take part in a car chase,visit the port of Bridgeport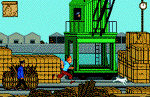 , discover Jauga (in Peru),fight your way through the Peruvian jungle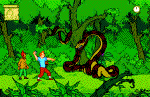 , get swept away by a condor, escape an avalanche and find the Temple of the Sun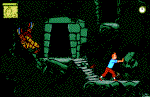 ..
Rich and varied gameplay: platform, action, thought-provoking puzzles
Yet more animations and possible actions: take items, push them, throw them, trigger off mechanisms and much, much more.
Very progressive difficulty levels
Technical innovations: screens in 3D perspective (the avalanche, the train, the car chase, etc). Impressively large Bosses (the snake, the condor)
Game in 4 languages: english, french, german, spanish.
---
System Requirements
486 DX2 66 MHz
8 MB RAM, 15 MB Hard Disk Space
VGA 256 color
CD-ROM Drive
SoundBlaster Card
Windows 95
---
TINTIN- Prisoners of the Sun
True to Herge's comic books. Both in terms of storyline and graphic detail, this game is rich and varied gameplay. Full of action and brain-teasing puzzles. Kids will love this game and so will fans of Tintin.
---