HERGE
THE CREATOR
Georges Remi (1907-1983)

Born in Brussels, Belgium, Remi took to cartooning in his school days and began signing them as Herge, a derivative of his initials R.G. After completing school, Herge joined the subscription department of the catholic newspaper Le Vingetieme, published by Father Nobert Wallez. While here he continued to contribute cartoons for a boy scouts' magazine. He also created the character Totor.
Herge joined the army for a brief stint and then returned to Le Vingetieme, where he was later appointed as editor of the weekly supplement for children, Le Petit Ving-tieme.
Not satisfied with the comic strips that were being published Herge decided to work one of his own. He took Totor and reworked the character. He decided to adopt the American comic strip style and introduce speech baloons. He added a small white fox terrier as a constant companion. Thus, in 1929, Tintin and Snowy were born and so were The Adventures of Tintin. His first journey was to the land of soviets.
Herge died of pulmonary failure in 1983. In 1986 a special edition of the last unfinished title Tintin et L'Alph Art was released.
__________________________________________________________________________________________
Herge's own favourite
The most popular Tintin adventure was Explorers on the Moon.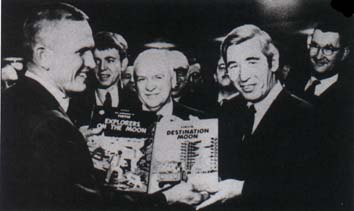 But Herge's own favourite was Tintin in Tibet (1960), because, according to him, "it's the one into which I put the most of myself."
This title had a deeper siginificance for him; it had to do with his own search for Chang, who first appeared in The Blue Lotus (1936). Chang was not fictional; he was inspired by Chang Chong-Chen, a Chinese student Herge had met and who had introduced him to Eastern thinking and to the wealth of the inside world.
Herge lost contact with Chang, but the brief friendship had made him more Socratic, and this was reflected in the titles that were released thereafter.
He was already conversant with Tibet and the yeti through the writings of Belgian explorers. He was also aware of symbolism, telepathy and dream interpretations through the writings of Carl Jung.
Though in the comic world Chang vanishes in the real world Herge reunited with Chang in 1981.
---