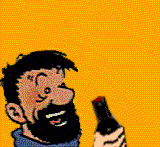 CONTEST WINNERS
CODE CONTEST #1
Are you ready for the Ultimate Challenge? Do you want a cool Tintin Winamp skin? Yes! Then CODE CONTEST #2 is the answer.
The three winners of the CODE CONTEST #1 are:
1. Jesper_Jühne
3. Taha
A thanks to all those who participated!
Code

---
Whoath
aterations
istala
Haunted
ddeckon
ocean
k'stin
father
mine
lying
escape
tank
tell
?
---
Courtesy PLANET TINTIN!!!